WIPs
These are my current Works in Progress:
Felted Rose Purse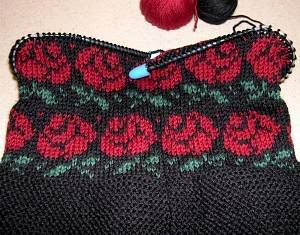 This felted Rose Purse Pattern is in Book Number 130 of Dalegarn (Dale Of Norway). It is an accessory pattern book. I am using Heilo yarn for this project. I am using three skeins of black 0090, one wine 4246, & one tartan green 7562. It is 100% Pure New Norwegian Wool. I still have one more row of the rose motif.
Surf & Turf Table Runner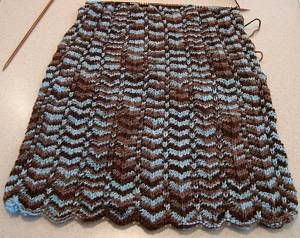 I am making a table runner out of the TLC Essentials in color Surf & Turf. I am using a pattern out of my little box of scarves. It is the Chevron and Feather scarf pattern. I am just making it wider. I think it shows off the color nicely. I usually do not like acrylic yarns but I am in love with this color way and being able to throw it in the wash if it gets dirty will be good for a table runner.
Dew Drops Scarf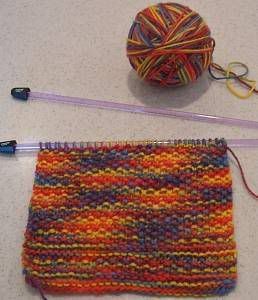 This pattern is from the book Exquisite Little Knits. I bought 1 skein of Makula Cashmere in color Enchanted. I cast on and this is as far as I got. This yarn is so soft and lovely. I think it is the perfect yarn to wrap close to the skin. I almost wish I did not like the cashmere because it is so pricey. Thank goodness pattern only calls for one skein.
Bridget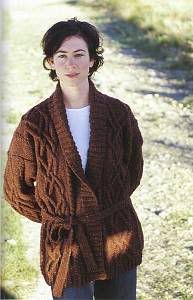 Bridget – Jo Sharp Book Number Two
This is my next big project knit.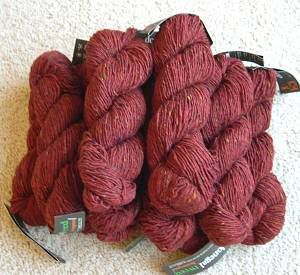 I am using Donegal Tweed Homespun in color 880. I am in love with this sweater. I think it should be a good challenge for me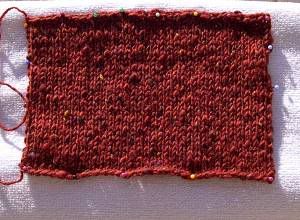 I made a swatch and checked my gauge. It looks like I am right on target. I believe this yarn will do nicely for the pattern.
Well that is what I currently have on the needles.