Fool's Day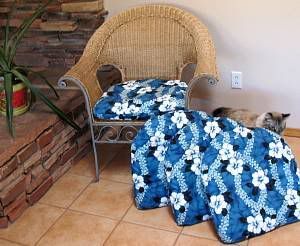 I finished my Blue & White project spectrum chair pad covers just under the wire. The new colors: green, Yellow & Pink start for April & May. They look fresh and new on my dinning room table chairs. Now I just need some tiki lights and some flower leis to make a Hawaiian evening.
Found Treasure
Chris and I have been working outside on the weekends. This weekend we were trimming the trees and bushes. It is starting to look like someone actually lives here. I found this little birds nest on one of the branches I trimmed off a bush. Thankfully there were no eggs in it. There are some locks from my hair I recognized, glad I could help out.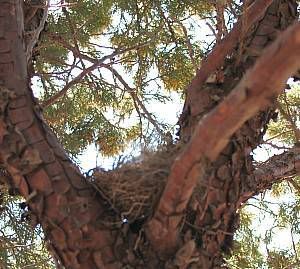 I placed it safely up in one of our trees. Maybe some lucky bird will fly by and claim it or at least use the materials for another one.
Fools's Day
Happy April Fools day. I am reminded of one of my favorite comedies titled "Raising Arizona". The movie came out in 1987 and starred Nicolas Cage & Holly Hunter. This is one of those movies I can watch over and over again and still laugh. Nicolas Cage plays the character named H.I. McDunnough "HI" & Holly Hunter plays the character Edwinna McDunnough "ED". After the two of them are unsuccessful in becoming pregnant they cook up a scheme to kidnap a baby from a family that just gave birth to Quintuplets.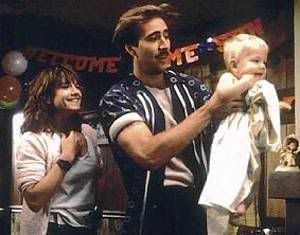 Anyway bringing it back to my point one of my favorite lines in this movie is where it is near the end and Hi & Ed are trying to get the baby back from HI's jail bird friends and Ed has come to a realization about her behavior and the consequences it may have. Hi tries to console her and reassure her that things will be all right.
Ed says:
" You'n me's just a fool's paradise"

I love that line and use it my self while talking to my husband. So in a way April Fools day is our day and any other couple's that live in Fools Paradise.