Las Vegas Alpaca Auction
Chris and I went to the America's Choice Winter alpaca Auction last weekend. This was our first auction. We were a bit nervous at first and not sure what to expect. Overall it was lots of fun, and we ended up buying 4 alpacas. All the alpacas at the auction were from Alpacas of America, they are a farm in Washington State. I will tell you more about the ones we got once we receive our package from them. After the auction they took a photo of Chris and me with our 4 new girls. I will post it when I get it. So exciting!
image from travelocity
We stayed an extra night in Vegas and went to see Blue Man Group. It was Chris's turn to pick a show since I had dragged him to Celine Dion & Momma Mia on previous visits. I am not sure how to describe this show. It is not like anything I have seen before. It was very entertaining & educational. There was lots of audience participation. I would probably not see this show again, once was enough for me. My reaction when we left was "Well that was different".
Of course I had to go to the Anthropologie store. I was in luck they were having a big sale.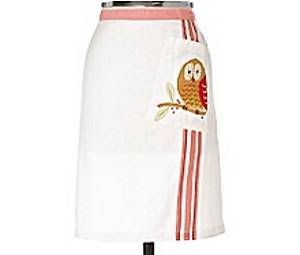 I managed to get the last owl apron. I had been eyeing it last season and was thinking about making one, but the detail on the pocket won me over.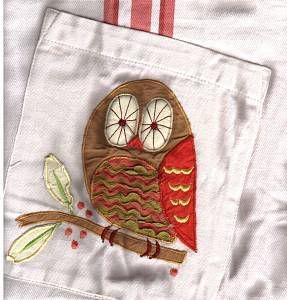 I scanned the apron in to show the detail.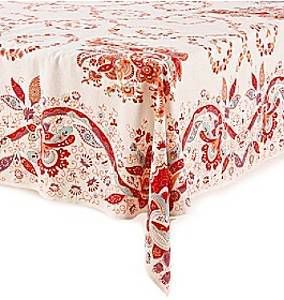 I also got this awesome Tablecloth. It is rectangular 72X90. The best part is that I got it 50% off. It is so beautiful; I am tempted to hang it on the wall. I think it will look nice this spring on my table.
Progress on Whiskey Scarf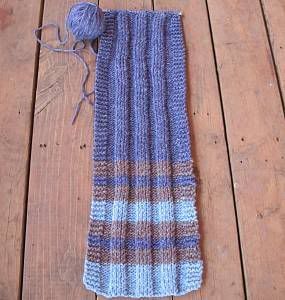 I am in love with RY soft tweed. It is knitting up real nice. I think with the 4X4 ribbing on the scarf it will be extra warm.
The Furnace

If you can believe it, I certainly can not; the furnace guy was just here and finally fixed it. Yes! We have been with out the furnace for over a week. Luckily we did have that weekend trip in Vegas which helped out. It took so long because they needed to order a part. It is snowing now and has been since 7:30 this morning. According to the news looks like we are in for it this weekend.
I did find something at Wal-Mart that has helped out with the cold. It is a heated mattress cover. I can not tell you how great this thing is. It has a control for each side so if your partner likes it at a different temp they can set it for them. For all you people that dread getting into your icicle bed at night get one of these and turn it on an hour before going to bed and enjoy a toasty nights sleep.