Mimosa Yarn
This beautiful grey yarn arrived in the mail from Michele over at
Rosehaven Alpacas
. There is nothing like a package of yarn arriving in the mail to make you do the happy dance.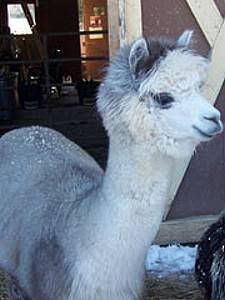 The yarn is made non other from our Mimosa one of the alpacas we bought from Rosehaven at the beginning of the year. This yarn was processed and spun from her fleece that was sheered last year. I received 6 hanks of Mimosa's yarn and am overwhelmed by Michele's generosity. That was so nice of her to send the yarn. I think this beautiful shade of grey would look nice as a cable or fishermen's sweater. I think the cable work would just pop right out in this beautiful color.
Progress on Jersey Sweater
I cast on last weekend for the Jersey Sweater. I started with the back and have had no problems so far with the pattern. I like the fact that the pattern is more fitted compared to some patterns that are just a tube with no decreases in the middle for your body shape. Especially with the horizontal stripping I don't want to look like a water buffalo or shall I say watermelon buffalo. 8)
Fabric Finds

I get regular sale updates from some online fabric stores and normally I just flip through the selection and delete the email. Recently I could not help my self and I placed an order. Here is what I got.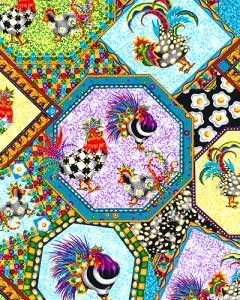 This is from Susan Pisoni Sunny Side Up line of fabrics. I am on a chicken and rooster obsession. I think it started last fall. For some reason I can not get enough of them. I only got a yard and a half and am not sure yet what I will make with it.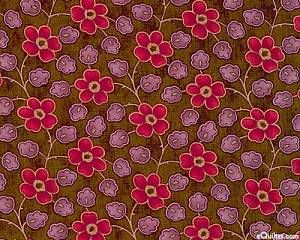 This is from Brackman & Thompson's line of Civil War Anthem. This one is called "Dogwoods on Hickory". I was drawn to this fabric for its color combination. I just love the chocolate, plum & cranberry coloring. There is no hard edges in the fabric motif all soft rounded lines. I have no idea what I will use it for.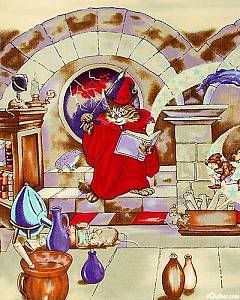 This is from Kathy Wilburn's Wizards & Whimsy line of fabrics. I have been on the look out for fabrics that might work well in a hanging quilt in Cosmo's corner of my craft room.
I also got these two fabrics as accents that are in the same Wizards & Whimsy line. I think if I have enough left after making the wall hanging I might make a cushion for his kitty pie bed I made last year.
Farm Work is Never Done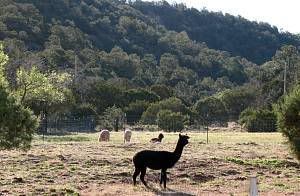 Every weekend we have been working outside trying to get this place how we want it. The list of things to do is endless. We have cleared out the three pastures we have the alpacas on now and are working on one of the last shelters that was built last year. It was never finished by the guy we had hired. Most of it is complete we just need to build some hay holders for the back wall and install the last waterier that is already plumbed. We finally found a local supplier of pasture grass seed that is safe for the alpacas and we can buy by the pound. So we picked up 10 pounds of seed last weekend. As you can see from the photo our pasture grass needs some help. I know it is still early but hopefully with some help we can have some nice green pastures eventually.