2 Woolly Buns & a Boy
Two of the alpacas we bought at auction in January from Alpacas of America arrived home. Cookie Dough is on the left and Finders Keepers is on the Right. Unfortunately they still were wearing their full fleece and had not been sheared yet this year.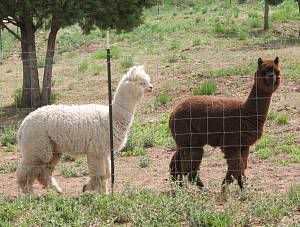 These two are best friends. They do every thing together. They even walk side by side and keep in step with one another. They were both born in 2005 and will both have their first babies in February next year.
At the auction we had not planned on bidding on Cookie Dough but she came out early in the auction at #5 and Chris could not pass her up she won him over. Myself after walking through the viewing area of all the alpacas on auction only had eyes for lot #39 Finders Keepers. She was the only one I wanted and was so excited that I had won her in the bidding at the auction. Not only does she have a wonderful fleece in color and also high frequency in crimp, her father is Legacy whom is a well known light silver grey alpaca.
Also on the transport was our new Herd Sire Snowmass Accoyodor. We bought him from the well known Snowmass Alpaca Farm located in Idaho. He is the alpaca we will be breeding our girls to this year when they are ready for breeding.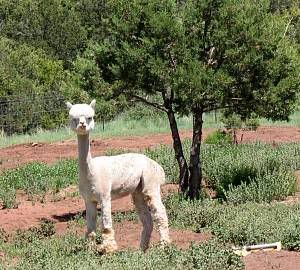 He has a nice setup all to himself in a pasture beside the girls. He likes to watch the girls go into their shelter for water and hay and puts on a show for them prancing along the fence. All the girls have gone up to his fence and gave him a good once over and I think they all approve of him. Because they are all pregnant right now he does get spit at by the ladies right in his face. This is a sign that they are pregnant and not wanting to breed at this time. He doesn't even flinch; he takes it like a Man. We are so pleased with Accoyodor. He has the best personality, very sweet and puts on his halter very easily and walks on a lead like he has been doing it for years.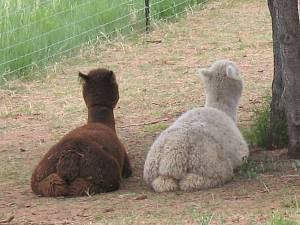 I do love these woolly buns, but since the temperature here has been up in the 80's Chris and I had to try and shear these two before they had a heat stroke. This being are first time shearing, lets say the two of them are not looking their best. We were able to shear off their back and belly fiber but since it took so long we left the majority of the neck and leg hair. The two of them feel much better and much lighter. They asked me not to show you a photo of their bad hair cuts and I gladly obliged.