Sunday Already
I finished knitting the felted rose purse motif. Now I am just working on knitting the handle. I am hoping to get this felted, blocked, and sew in the lining next weekend. I am anxious to see how it looks after felting.
Yesterday I picked up some things for my color swap pal. The colors for April are Yellow & Orange. The deadline for the swap is April 15th. I am having a blast finding things for my pal. Her name is Jo and you can see her over at
Wildpeculiarjoy
.
Cooking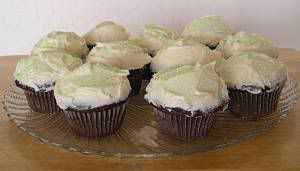 I brought some double chocolate cupcakes with cream cheese frosting sprinkled with green sugar in to the office for my employees last Thursday. They turned out great very moist and tasty.
House Hunt
We went out last Thursday after work and checked out some property for sale. It is 15 acres reasonably priced. The land is perfect it is all flat and would not need to be cleared before building on it. Also there are pretty good views of the mountains in two directions. There is a neighbor behind us that has 15 acres. The property is easy to get to and is off a paved road. It is about 15 minutes from the office. Across the street is a Pecan orchard. We put an offer down and are waiting to here back. They have till Tuesday at 5pm. Here are some photos of the property: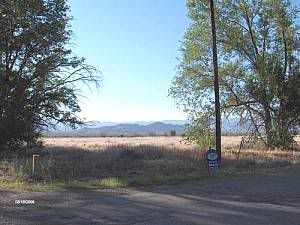 Looking on to the property from the main road.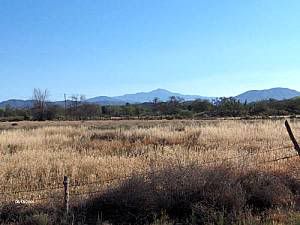 View to the Northeast.
View to the East.
Neighboring Pecan Orchard.
Gardening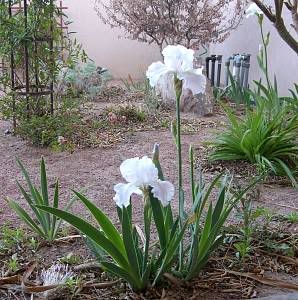 Here is a photo of one of my irises in bloom. They do very well in my yard. I planted about 8 different kinds a couple of years ago and they keep coming back twice fold. Today I plan to go to Lowe's and pick up some plants to replace some of the dead ones and clean up the yard a bit. As you can see in the photo I have some weeding & clearing to do. Need to get the yard back in shape for when we put the house on the market.