Bronte's Baby Girl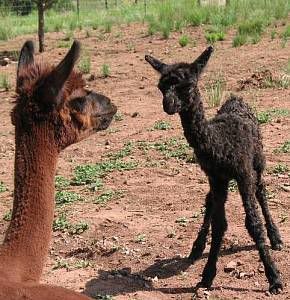 Bronte had her baby this week. She had a beautiful little black girl.
She is a smart one. She was up and trying to walk about 10 minutes after being born, and soon after that she was looking to milk.
Her fiber when the light hits it just right looks like velvet. She is real sweet and Bronte is a great mommy.
Florida for the Weekend
webshots photo
I am heading to Florida this holiday weekend for my Dad's retirement party. It should be lots of fun. Chris is on baby watch and will be staying home. We have one alpaca past due and another one due this weekend. I hope they both wait till I get home before they have them. I always hate to miss the new babies being born.
Have a great weekend!