New Pillow Bed for Cosmo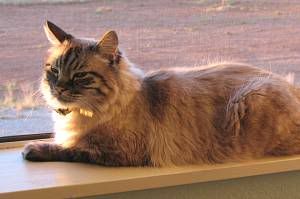 I love this time of year when we are able to open the windows and let the breeze swoosh in to refresh the air. Cosmo is an indoor cat so he especially loves to sit on the window sills taking in all the outdoor activities.
I decided it was time to make him a pillow insert for his kitty pi I knit for him the summer of 2006. I would normally just stuff a towel in the bottom, and thought I would eventually make a pillow for it. First I made the pillow using some suede fabric in my stash. I stuffed it with that memory foam stuff.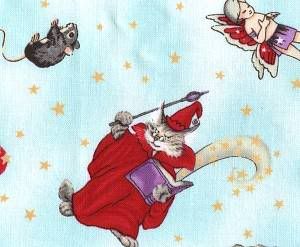 Then I made a zippered cover for it using this fabric. It is from the Wizards & Whimsy fabric line. I love the little white tiger wizard cat, he resembles Cosmo.
Here it is, all completed and ready for a cat nap. It will be nice to be able to toss the cover in the wash when it is full of cat hair. The cushion is so comfy I have plans to make a cover for my ugly worn out office chair, and making a similar cushion for the seat.
Cement Pour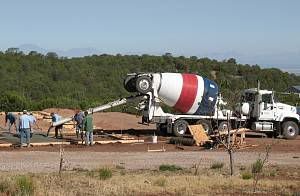 They started pouring the cement for the barn on Saturday. We had a bad rain & hail storm last week that delayed the pour.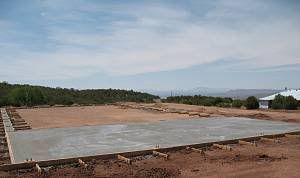 This slab will be inside the front of the barn were we plan to have a little office on one side and the other side we will store hay & grain. Our contractor says it will be at least 30 more days until the barn is done. Originally it was to be done by the end of May. Chris and I have found the people to be on a different pace out here in the country. Unfortunately it will not be done in time for us to do our scheduled alpaca shearing in 2 weeks. I plan to rent a canopy tent for the occasion, and keep us out of the sun for the day.
Bette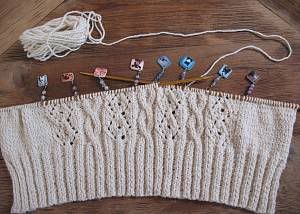 I was able to cast on last weekend for my vest. It turns out the pattern is not as hard as I thought it would be. Now that I am getting the hang of it, I am enjoying the process. Starting with the back I have completed the ribbing and 2 repeats of the cabled lace pattern.
Tag I'm It

I was tagged by the wonderful
Angelika
, here goes.
"The rules of the game get posted at the beginning. Each player answers the questions about themselves. At the end of the post, the player then tags 5-6 people and posts their names, then goes to their blogs and leaves them a comment, letting them know they've been tagged and asking them to read your blog. Let the person who tagged you know when you've posted your answer.
1) What was I doing 10 years ago?

Chris and I were living in Oregon and both of us were in college he was in Dental School & I was at Portland Sate University. I originally was planning to be a Pharmacist. At the time I was planning my wedding for the summer of 1999. For me I did not want to spend a lot of money on the actual event I prefered to spend it on the honeymoon. I am all about the vacation. I found a used dress at a wedding consignment shop and had some alterations done to make it more personally mine. I was in to cross stitch & also mosiacs, where I would brake a bunch of old plates and glass and arrange the pieces onto trays and tables. Oh and lets not forget I was madly decoupaging found objects at thrift stores.
2) What are 5 things on my to-do list for today
Chris & I are going to see the new Indiana Jones Movie
Cutting out squares for my plaid quilt.
Knit a couple of rows on my vest
Pull a few weeds in my garden
Make some sun tea
3) Snacks I enjoy:

Apples with peanut butter
Hot Chocolate with Hazelnut syrup
Plain M&M's
4) Things I would do if I were a billionaire:

Pack up the 4 legged kids and get the heck out of New Mexico. LOL
I would buy a huge farm with all the bells in whistles, where we would live in the Spring & Summer. I would also buy a little cottage on the East coast. Not too small, but big enough to have an amazing design & craft room. We would live there in the Fall & Winter. I would travel the world. I would also donate large sums of money to wildlife preservation & to no kill shelters.
5) Places I have lived:

New York (upstate)
California
Lousiana
Mississippi
Florida
Oregon
New Mexico
6) peeps I wanna know more about:

If anyone has not been tagged yet and want to do this one consider yourself tagged.