Long Weekend in Florida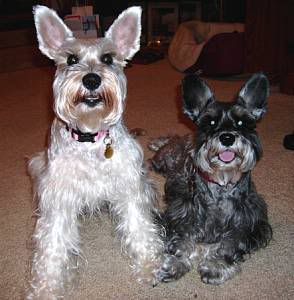 I went to Florida for the holiday weekend for my Dad's retirement party. I stayed with my sister and her lovely family. This is a photo of their two dogs. The one on the Left is Charlie, and she is a miniature schnauzer. The one on the right is Samantha and she is a snoodle. I love these dogs. They were so well behaved compared to my mongrels at home.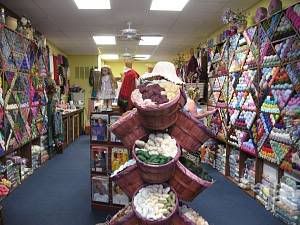 The first day my sister and my nephews and I went to Mt. Dora and I found Knit & Needle Nook. It was a great little yarn shop. I ended up buying a couple of knit baby pattern books. I did not get any yarn, I feel like I have enough yarn at home to last me a few years.
This is a fountain we found as we ducked under shelter from the rain while walking along the street filled shops of Mt. Dora. I think that is a clematis vine growing along the trellis in the background. We did get a couple of days of rain while I was there, mostly from the hurricanes around us.
Here is my Dad and to the left his wife, he was leading a bunch of people in a chicken Congo line through his property. By the look of him it appears he is having the time of his life. I definitely long for the day Chris and I both can retire. His party was a huge success. There were probably over 200 people there. He had one of those blow up jump inside thingies for the kids. He also had a dunk tank, which was very comical. There was plenty of good food and even a DJ with a dance area. The party was a huge success and was a great asset to set my Dad off into his retirement.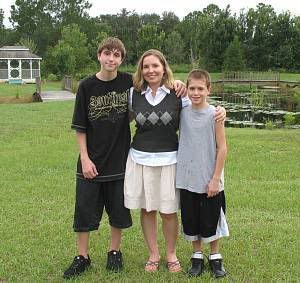 Here is me and my nephews at the party. I had not seen them in a couple of years so I was shocked at how much they had grown.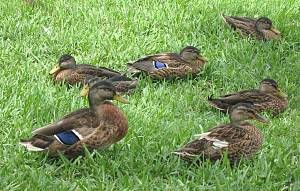 One of the days my sister, brother, his girlfriend & my nephews went to the Disney market place. Along the water there was a flock of ducks resting on the grass. It was real cool to see them up close since we do not see any ducks in New Mexico.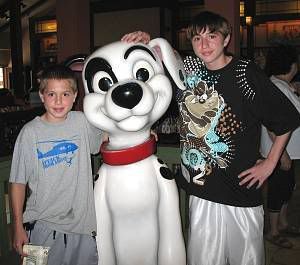 Here are my nephews in one of the shops.
Here is my sister on the left my brother in the middle and me on the right in front of a large Lego Lockness Monster. This day was very hot and humid we all felt like we were melting while outside.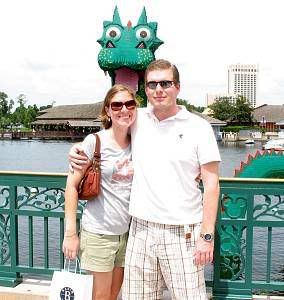 Here is my bro with his girlfriend.
One of the nights my brother had us all over for a night of Italian & some Wii games. He made this awesome tiramisu. I was impressed I have never attempted to make one. This one turned out great. Another night his girlfriend made an orange chocolate chip bundt cake. She is going to send me the recipe, and I can't wait to make it. It was delicious.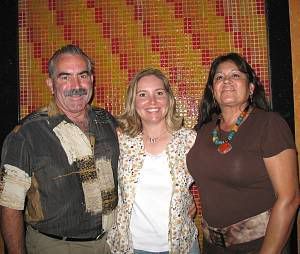 The last night the whole family went out for Mexican. Here is a photo of my Dad, his wife & me at the restaurant. My sister and her husband were celebrating their 19th wedding anniversary. It was a great night.
Overall I had a wonderful time and am so glad I got the chance to see my family and spend some time with all of them. I was lucky enough to get in and out of Florida in between the hurricanes. The weather there this time of year really blows. I am really spoiled in New Mexico with over 300 days of sunshine and blue skies.