Spring Tote & Blooms
Pattern: Counterpane Carpet Bag
from book Handknit holidays
Yarn: Plymouth Yarn Fantasy Natural
Color: 9899
I modified the pattern and did 5 repeats across making it wider. I went up three and then did a yarn over after every 10 stitches to create wholes for the tie enclosure. For the tie enclosure I made two long braides with 6 strings of yarn each. Once done knitting I sewed sides together. Then I cut out a circular piece of fabric using a pan lid as a template. I sewed the circle to the bottom. This created a circular tote. I then lined the inside with white fabric.
Blooms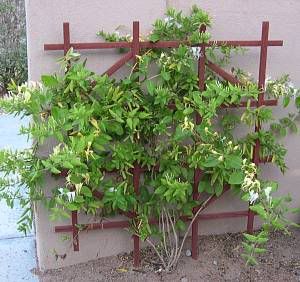 This is my Hall's Honeysuckle vine. I am very pleased with this plant. It stayed green all through winter and is able to withstand below freezing temperatures, and also does well in full afternoon sun. It is beginning to bloom. I am addicted to sticking my nose in the blooms and smelling the sweet aroma of this plant.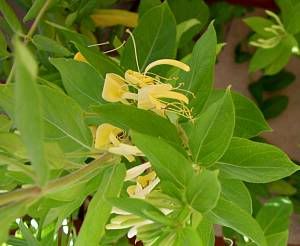 Here is a close up of the bloom.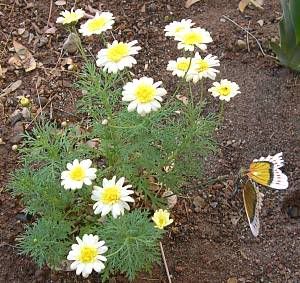 This is Lemon Sugar Marguerite. I planted this perennial a year ago and I am pleased it came back this year. Like my fake butterfly? I have a bunch of butterfly and ladybug sticks all over the yard.
Here is a new bloom from Rio Samba my latest Hybrid Tea Rose. It reminds me of orange sherbet.