A New Day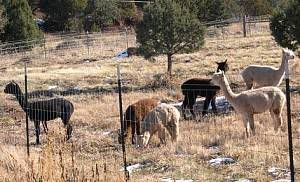 We made it through our first week with the alpacas. I put out a half a bale of hay and they still have not eaten it all. They tend to graze all day out in the pasture. They are just now starting to eat the vitamin pellets we put out and they eat about 6 cups in two days.
This week I have been working on getting them use to me. I have tried many different treats to lure them into loving me. One day I brought out baby carrots and they looked at me like I was the devil and wanted none of anything I had to offer. The next day I brought out apple cut up into little pieces. "No thanks we don't like you". One of the days we had a plumber come out to see about getting our automatic water system hooked up. I brought the plumber to the gate to go inside and once the alpacas heard his voice they came running over to spend time with him.
WHAT, a complete stranger. What am I chopped liver. I think they might have thought he was someone they knew. Anyway my feelings were hurt a little. We did some more research and bought a bag of sweet feed. It has a bunch of stuff in it including molasses and proteins.
We walked out into the field with a couple of cups of the sweet feed in a bucket. Yippee they love the stuff. Tasha prefers to eat it out of your hand and Satine prefers to stick her whole head in the bucket and gorge her self. Unfortunately it is so rich you can only give them about a cup each of the sweet feed.
The best part is now when I go to change out their water and check their food supply they come to me and say hello and check if I have any treats.
The dogs are starting to get use to seeing the alpacas in the pasture. Here is Brandy watching them from the front porch.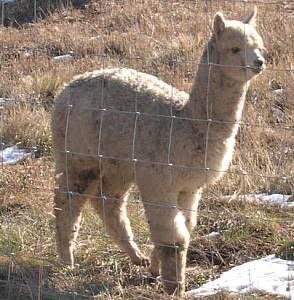 Kingsley is the smallest of the babies, and he is such a Mommas boy. He will skip and run around the field, but as soon as we get anywhere near him he will run to his Momma Satine, and bury his head in her fur. So Cute.
Christmas Stocking
Here is my progress on the stocking. If you look closely you can see the strip of waste yarn where I marked for the heel. I am at the part where you decrease for the toe. I will be joining the green and purple for the toe. I had planned to finish this last weekend because I am anxious to get started on my Norwegian Hat.
Unfortunately I burnt my left hand doing something totally stupid. I had an oven mitt on my right hand and I was pulling out a hot pizza from the oven. I must have gotten steam inside the glove and my hand began to burn, so not wanting to drop our dinner on the floor I instinctively reached for the pan with my left hand with no hot pad. I only burnt my middle finger and thumb and it hardly looks like anything at all, but man did that put me out of commission for knitting that evening. I must say nothing is worse pain than a burn. The next morning my hand was fine due to quick thinking and tending to the burn when it happened. I surely will not be opening the oven again with out having both hands protected.
Stash Enhancement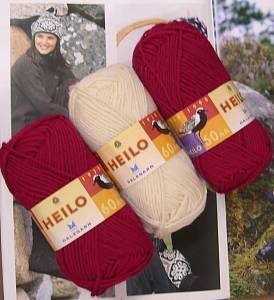 My Heilo yarn arrived for my Norwegian hat. Oh so excited. This knit along is going to be so much fun. I have been obsessed with checking out all the members' blogs. There are so many great knitters in this group. If you check out the latest post on the KAL you will see the hosts made a list and broke every one down into groups by which type of stranded knitting they will be doing.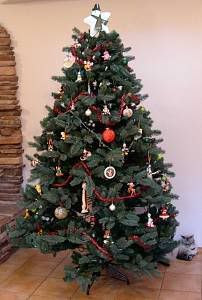 I finally got the tree up and decorated. You can see that Cosmo has claimed his spot under the tree. We do not really have a theme for the tree although the majority of the ornaments are Disney characters. Pretty much whatever we like goes on the tree.
This month is flying by. I hope everyone can catch there breath and take some time to relax and enjoy the moment.