Over So Quickly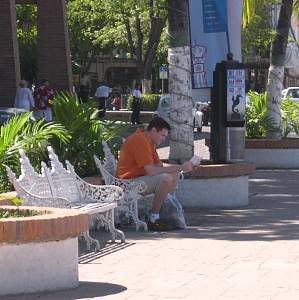 We spent the last couple of days wondering around the city taking in the art galleries and doing a little shopping. Here is Chris sitting on a bench downtown.
The Loot

You can find some great deals in Mexico especially if you pay in Pesos.
The one thing I was looking for was baskets with lids. I was able to find these two. I use them to store sewing notions or yarn.
These hand woven blankets we found on the beach. The seller was walking along with a stack of them on his shoulder. These are very warm and will be nice for the coming winter.
This is a wool rug. It is folded up so you can see the pattern. It took Chris and I forever to finally decide on this rug. No two rugs looked the same, and I was trying to pick one with colors that matched our decor.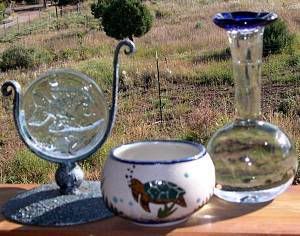 Knick-Knacks
The one on the left has a place to put a candle in the back so when lit the light shines through the glass with a carved fish. The middle is a ceramic bowl. The one on the right is a glass blown vase with cobalt blue along the top edge. Perfect size to display a flower or two.
Well that's about it. We had a wonderful time and feel rested and ready to get back into the grind of life.