Gone with the Wind
Webshots photo
It is my birthday today. I am now 34. Thank goodness I have waited a whole year to get passed 33 and finally I have. I prefer even number years and 33 is probably my least favorite number. My second least would be 99 and that is a long way away so I can rest easy. Both hubby and I have our birthdays in April. We are kind of skipping them this year. We have an upcoming vacation in a couple of weeks and prefer to save all celebrating and mass spending until then.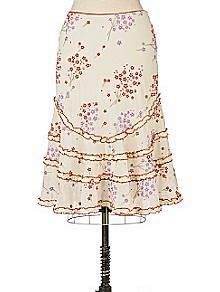 I did manage to get this wonderful skirt from my favorite store
Anthropologie
. It was in the clearance section and was over 50% off, but still a chunk of change. I love this skirt. A girl has to have something pretty that makes her feel special, and this skirt does it for me. I love the embroidered flowers & the little ruffle. This skirt inspires me and also when I put it on I can't help but twirl around the room.
Here is a close-up of the detail.
We plan to go to
PF Chang's
for a late lunch today. I have been craving their lettuce wraps for about 6 months now. The restaurant is about a 30 minute drive so we save it for special occasions.
Stash Socks
Since I am about to receive a skein of sock yarn once a month for the next couple of months I thought I should use some of the sock yarn in my stash to make room. I pulled out my two skeins of Shepherd sock Lorna's Laces in color #304 Black Watch. I found a free sock pattern named
Rainbow Ripple
. I cast on and this is my progress so far.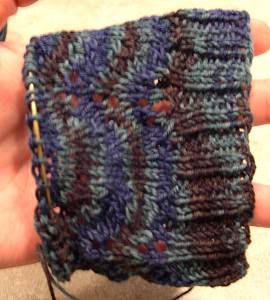 I am using a 12" circular needle and man is it much easier to get started than with the dpn's I will need to switch to dpn's when I start the turn heel but for now I am enjoying the easiness of the circular.
Back to Square One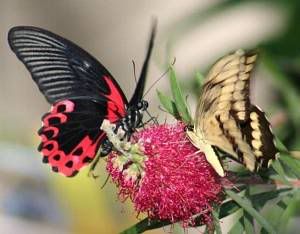 webshots photo
Here comes the depressing part of my post. If you would like to stay happy just skip this part and take another look at my birthday skirt.
Well we have had bad news on the whole house project. The land that we were purchasing appraised way under the price we were to pay. I am talking $50,000 dollars less than what we were to pay. So we tried to negotiate again with the seller to see if he could come down closer to the appraisal price. He refused to go any lower. The bank will only loan us the amount for the appraisal and anything over that we would need to pay out of pocket. So we had to let the land go.
This was such a blow. The house plans actually were finished on Friday and we will be looking at them on Monday. But now we have no land to build it on. We have been working on this whole transition for months and now we are back to the beginning. We are kind of at a loss at the moment and are stressed out about the whole thing. Now we are back looking for some land.
I think I can sum up the way I am feeling with some quotes from one of my all time favorite movie "Gone with the Wind"
Scarlett
: "I can't think about that right now. If I do, I'll go crazy. I'll think about that tomorrow."
Rhett Butler
: "I'm very drunk and I intend on getting still drunker before this evening's over."