Our Hawaiian Vacation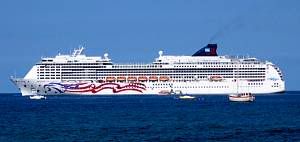 Chris and I had never been to Hawaii before and it is one of those places I had always wanted to see. My grandparents on my Dad's side use to go there on vacation. Grandma would wear those flowered dresses all the time during the summer months. I knew some day I would see Hawaii.
Chris and I decided a year ago that we would take a Hawaiian Cruise. We thought that would be the best way to see all the islands and decide which one we would like to go back to for future vacations.
We chose the Norwegian cruise line. They had just started a few new ships that went around the islands. The newest one at the time we booked the cruise was The Pride of America. We chose a 7 night cruise that took off from Honolulu. My Mother-n-law & Step Mom also booked the cruise with us and made it a family vacation.
Chris and I landed in Honolulu on Friday around 12:30 pm. We caught a taxi to our hotel Outrigger Waikiki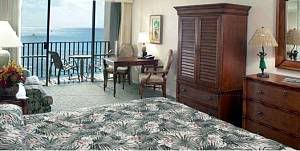 When we checked in they had upgraded us to an ocean view. SWEET! We stuck the bags in the room and headed down to Duke's Canoe Club for lunch. We had the crab wontons and each ordered the fish tacos. I had a drink called Tropical Itch that had an actual back scratcher sticking out of the glass.
That evening after a nap we walked along the beach, it was hard to believe we were in Waikiki and would be starting our cruise tomorrow.
Next Day
We did not need to be at the ship for embarkation until 1pm. We were up early and walked to the Honolulu coffee Co. It was about a block from the hotel.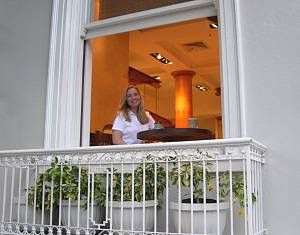 Here I am sitting in a window seat. It was a great place to watch early risers getting their morning jog or just not use to the time change like us. The coffee in Hawaii is very good. It is known world wide for its flavor.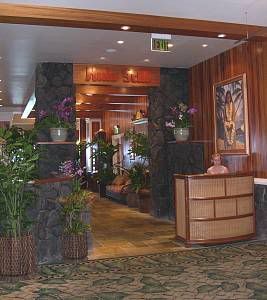 We walked back to the hotel in time for the Hula Grill to open for breakfast. Since we were one of the first to arrive we got a great ocean view seat to watch the sun rise.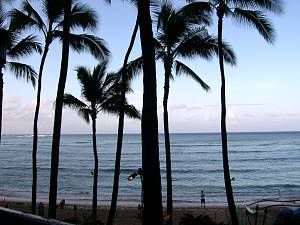 This is the view from our table.
Chris got the Waimea Bay Omelet and I got the Crab Eggs Benedict. He drank fresh Guava Juice and I had a Guava Mimosa. This breakfast was so scrumptious. I could have cried in the moment of how wonderful everything was.
After breakfast we decided to walk up and down the street and check out the shops.
There are lots of these Banyan Trees. Banyans are a species of fig tree.
After shopping we still had some time to kill before we had to be on the ship for embarkation at 1pm. So we put on the swim suits and headed down to the beach.
Here is Chris in the water. He is the one in the center. He had a great time out there with the waves for about an hour.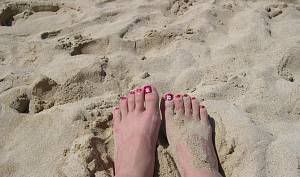 I chose to sit out on the beach pushing my toes into the sand and reading my Outlander book. Great book so far. I highly recommend it. A little bit of a slow start but once she starts to time travel it really gets going and you will be hooked from there on out.
We washed up checked out of the wonderful Outrigger Waikiki hotel and took a taxi to the pier. The ship was huge docked at the pier. Once on board we headed to the buffet for a little lunch.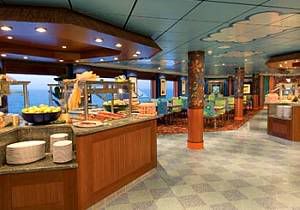 The buffet is at The Aloha Café. We chose a seat outside and here was our view while we ate a nice lunch.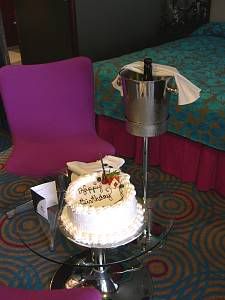 We headed to our room on deck 11. To our surprise there was a birthday cake for Chris and I along with a bottle of champaign and some tropical bouquets around the room. These were gifts from my MIL & Step Mom. Both our birthdays were in April.
We met up with the ladies for dinner and ate at the Teppanyaki Restaurant. It was one of those Japanese restaurants were the chef cooks your meal in front of you. It was lots of fun and good food. Chris and I shared the Lobster and steak meal. Tastey.
The ship left port and headed out around 8pm. We went to bed shortly after unpacking our suitcases. The boat was booking it and you could really feel the movement of the ship. I had started taking Bonine (for Motion sickness) that morning and would continue to take it every day for the remainder of the ship. Last cruise I took I had gotten sea sick and know I need to take it.