A Day in Kona
Kona is on the West side of the big island. The ship stopped here for the day on Wednesday. The ship was too big to pull into the port so it anchored a little ways from shore. The ship provided little boats that shuttled us from the ship to shore and back again. This is called tendering I am not sure of the spelling. Chris and I canceled the rental car today and made out on foot to local shops. Also there was several shuttles that could take you to different areas of shopping.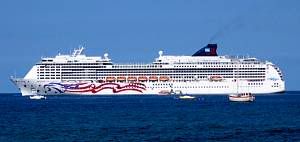 Shopping

There are two stores that are on every island that sell tons of Hawaiian stuff. There is Hilo Hattie & ABC stores. Since we pretty much hit every single one Chris and I concluded that ABC was your best bet. There prices were lower and they were more conveniently located. Hilo Hattie you needed to take a shuttle to where as ABC stores were on every block.
While I was on a mission with my quilt stuff Chris was on a mission for Hawaiian snacks, jellies and syrups. Here is what he found: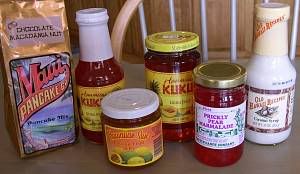 Chocolate Macadamia nut pancake mix, guava syrup, Passion Fruit Jelly, guava jelly, prickly pear jelly, coconut syrup
Macadamia nut clusters, wasabi mac nuts, chocolate covered coffee beans, milk chocolate macadamias, mau onion & garlic macadamies, macadamia nut toffee crunch cookies
I found a great deal at the market place two sarongs $5 each.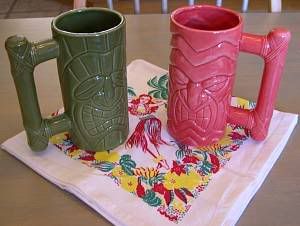 I also picked up these great TIKI mugs and they are sitting on a red work tea towel.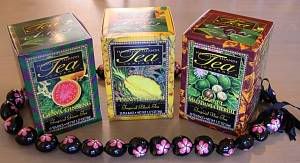 I could not help myself but to buy some tropical teas. Coconut macadamia herbal, Pinapple Waikiki, Guava Ginseng. That is a KuKui Nut lei I also found at the market place. Each nut is hand painted with a pink plumeria flower.
Lunch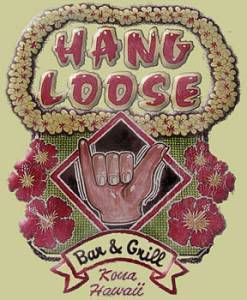 We stopped for lunch at the Hang Loose Bar & Grill. That hand gesture that is on their sign means to hang loose. It is a surfer term. We sat our selves at a nice table with a water view.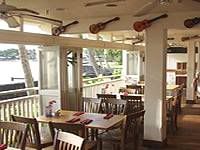 I ordered the Terriyaki Burger- Broiled burger topped with Oriental Teriyaki sauce and fresh grilled pinapple. It was delicious.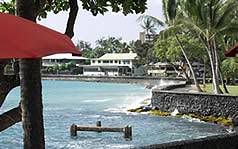 For dinner we met back up with the ladies and ate at the main dinning room. Chris and I enjoyed our dinners with them and being able to share what each of us did during the day. It always made for a great ending of the day.