Nawiliwili, Kauai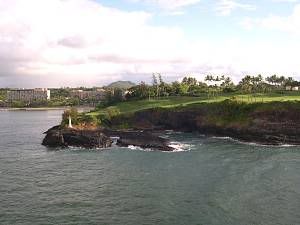 This was the last stop of the cruise and we would port here a day and a half. The first day Thursday Chris and I rented a car and hit a couple of beaches with snorkel gear.
This island is very beautiful. I like it the best as far as the way it looks. Not much going on and it felt very secluded.
We stopped for lunch at the Poipu Shopping center. We had seen a show on the food network that mentioned the Puka Dog place. So we planned to check it out.
Puka pronounced Pooka means hole. What they do is take a bun and carve a whole in the top and stuff the hot dog in it with specialty Hawaiian salsas. I ordered the polish dog with garlic lemon original sauce and mango relish. It was the best darn hot dog I ever had. If I lived there I would probably eat there regularly.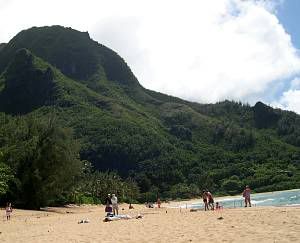 One of the beaches we stopped at had this mountain. It is skull mountain I think it was the one filmed in the earlier Hong Kong Movie. Snorkeling was lots of fun. It was like swimming in an aquarium I was shocked at how exotic the fish were. Also there was some that were very large. I am not sure how I felt about that. I stayed still and let them swim by me.
We ate dinner on the ship that night too tired to go back ashore for local fare.
The next day was a short day at shore returning our snorkel gear. Stopping at a couple of last minute shops.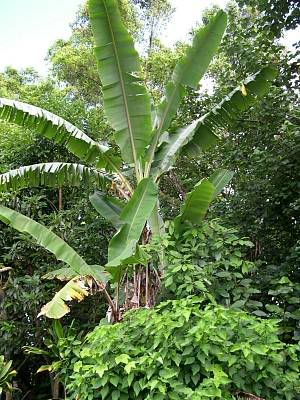 We were back on the ship for the rest of our last day.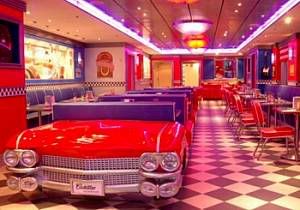 We decided to eat lunch at the Cadillac Diner. It was pretty cool looking all decked out in 50's stuff.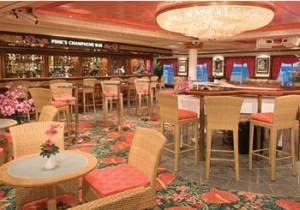 That night we met up with the ladies at Pink's Champaign bar for drinks before dinner. The ship had started on its way back to our starting point Honolulu. It was special this evening because we would drive by the Na Pali Coast line. Here are some of the photo's I took while passing by.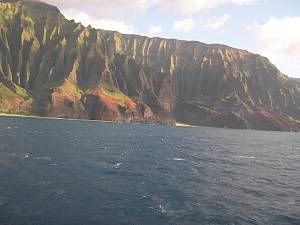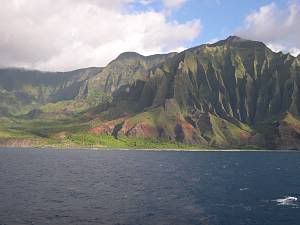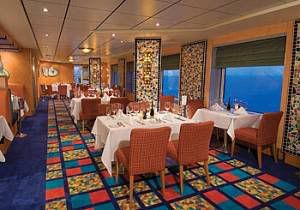 We had our last dinner at Little Italy. It was a lovely dinner and we enjoyed spending it with our family. It was hard to believe this was the last night of the cruise. We made plans to meet for breakfast the next day before leaving the ship.
It was truly an amazing vacation and we were so lucky to be able to share it with loved ones. My favorite places were probably Maui and Waikiki Honolulu. I would gladly visit them both again. I hope you enjoyed my trip report I enjoyed remembering and documenting the experience.
Now back to the real world