It is Official
webshots photo
We closed on the house last Friday and are officially owners of a country home in a very small town. The town has no stop lights. It does have a post office and a corner store. That is it. At our new house there is no mail delivery up our road so we will need to use a post office box. There is no garbage pickup either. However the good news is we were able to get DSL through the phone company. Thank goodness, I don't think we could handle dial up again.
Chris and I got the keys to the home last Friday and did a walk through to see what we needed to do to make it livable. Remember how I said there was one room that is in desperate need of a paint job. Well let me tell you, every single room needs a paint job. All horrible colors are up on the wall, and the walls are filthy. At least the floors look good. There is tile through out all the main areas and nice carpet in the bedrooms.
Charlotte
Movers are booked for Friday the 23rd. So I have been busy cleaning and packing. I cleaned out the garage on Saturday. What a job that was.
Look what I found in the corner.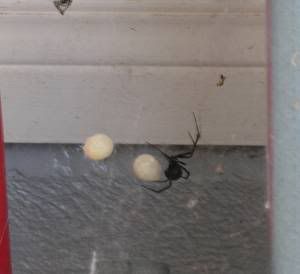 A Black widow spider with two egg sacks. Creepy Jeebys! It was a two man effort to remove her. We have never been bitten by one but we find a couple every year, usually around the BBQ.
Busy Moving

I will try to post again after we move and I get my computer back online.
Cosmo is our official box inspector.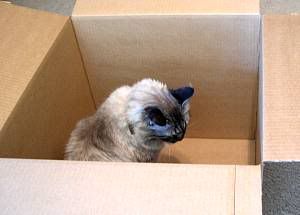 He is obsessed with each and every box in the house. This is his and Haley's first move. I stress out about them adjusting to the new home. Brandy on the other hand she is an old timer and has been through many moves and does well with new places. I think she is going to get a kick out of all of the land we are going to be moving to. She is a true country dog at heart.