Just in Time
I finally finished my Christmas stocking. There were a few problems with the pattern or maybe with my interpretation of the pattern. I ended up ripping out the foot part and making my own modifications.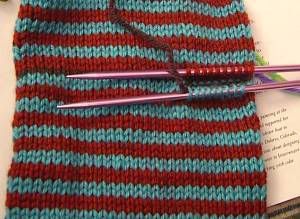 This pattern called for putting in a scrap piece of yarn for the heal then later going back pulling out scrap yarn picking up the stitches to knit the heal. This part went well. I just did it loop by loop making sure not to loose any of the stitches.
Overall I like the end result, and am so happy to move onto my Norwegian Hat.
HE HE HE HO HO HO.
Yarn Clearance & Sales
Has anyone else been tortured by all the emails about yarn clearance and holiday yarn sales. I have been so good up until I received the email from WEB's with Rowan Classic Soft Tweed at only $3.99 a ball. I could not help myself; you know how much that yarn normally costs. Geez, I am weak I bought some. The good news is I already have patterns in mind to use it with so it should not sit in my stash long.
I thought I might make this Whiskey Hat & Scarf from the pattern book Rowan Classic Winter book 6.
I also plan to make these Log Cabin Socks from the book Handknit Holidays. This pattern is originally for Rowan Cork Yarn but Cork has been discontinued. I think the Rowan Classic Soft Tweed will make a nice substitute. I know I am a little late to the party and did not get a chance to knit them last year when everyone else was, but better late than never. Don't they look cozy?
Holiday Scramble
I made a couple of sweets for the holidays. These are Lemon Poppy seed Snicker doodles. I also made some peppermint bark, both a big success the last day at the office. We closed down the dental office until next year, and will have next week off. I am excited about the time off. I am almost finished with all the holiday scramble and am looking forward to sitting back and enjoying the Holidays.
White Christmas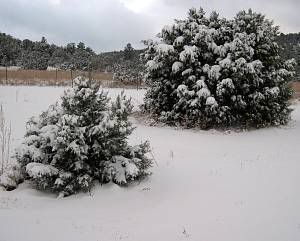 Looks like we will be having a White Christmas at our alpaca ranch. It snowed last Tuesday, and it might snow again tomorrow.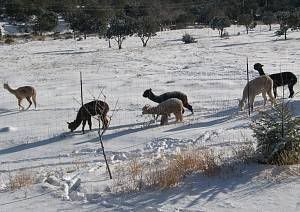 The alpacas don't seem to mind too much. They sleep in the covered area at night if it is windy.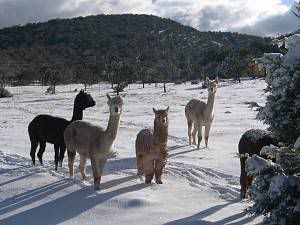 Kingsley our littlest one pictured in the middle is so dirty I can not believe how filthy he is. Boys will be boys I guess.
Brandy loves the snow. She is 12 years old but once it snows she runs around like a puppy. Dashing around and stopping to gulp a big bite of snow.