Mums the Word
On occasion I like to buy fresh cut flowers for the table. I love to see them every time I walk past. Cosmo loves fresh flowers almost as much as I do. Unfortunately he likes to taste them.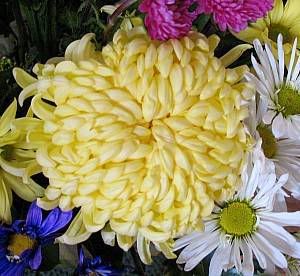 I chose this bouquet for the two yellow Chrysanthemums that were in it. This is my favorite kind of Mum. The flower head is a class 1 irregular incurve. They are the giant blooms in which the petals loosely incurve and make a fully closed center. Simply Lovely.
Back 2 School Swap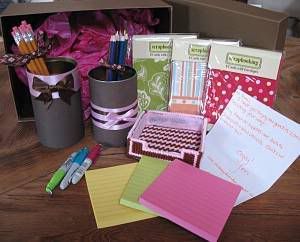 I joined the
Back2School swap
that was started by Marta. My package arrived from my swap partner Jennifer today. Lots of goodies that include two pencil holders, pencils, colored pencils, sharpies, large post its, a holder for post its, & some lovely cards. All the goodies were in a cool brown box. Jen did a wonderful job making the pencil holders and the post it holder all three color coordinated with pinks and browns. You can check out Jen and see the package I sent her over at
Shiny Things
.
Finished Chevron Scarf
Yes, I finished my chevron scarf and it is modeled by Haley, whom thinks alpaca yarn is super soft and cuddly.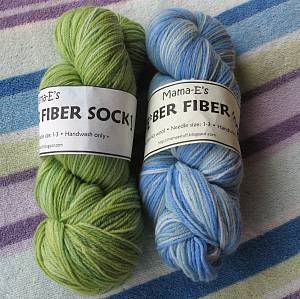 As soon as I cast off I looked through my stash for another go of the chevron scarf pattern. I found these two skeins of sock yarn I got last year from Mama-E's Ceyeber Fiber sock yarn. They are both 100% merino wool. The one on the left is May-belle and the one on the right is June bug.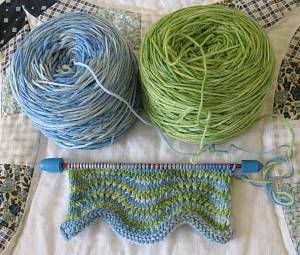 I gave them a try and even though they are really just two colors with different variation through out the strand, I like the way the stripes are coming out. The colors make me think of the beach & the sea.
Little Getaway

webshots photo
Speaking of the sea, Chris and I are heading to the beach for a much needed vacation. I can't wait to feel the sand between my toes. I should be packing. We have to get up around 2 am to catch an early flight out of Texas. It is not so bad considering I usually can't sleep the night before we fly somewhere. Too Excited!