An Oregon Thanksgiving
We spent the holiday with my in-laws, and it was perfect. We had the usual for dinner turkey, stuffing, and mashed potatoes. My faves were the homemade turkey gravy and the cranberry sauce with oranges. I'm not much of a meat eater so I like all the sides. This photo was the center piece a glass round vase with rose buds surrounded by martini glasses filled with olives. That was a cool idea. The table looked beautiful.
Mother-n-laws Garden
Mom had lots of great treasures in her garden. One of which is this passion flower. I could not believe she still had blooms.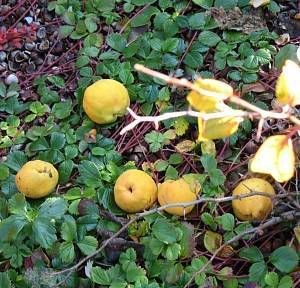 These are quince that had fallen off the tree. I think this was the coolest plant in her garden. It is such a romantically old plant that not many people have. The quince is native land lies between the Caspian Sea and the Black Sea, a mountainous region called the Caucasus that touches northern Turkey and Iran as well as Southern Georgia. There is still a wild variety that grows in these parts.
The quince appears in Greek writings as far back as 600 BCE. It was used in Wedding ceremonies. The ancient Greeks considered quinces to be the symbol of fertility and dedicated them to the goddess of love. There is a myth that says pregnant women who eat large quantities of quinces will give birth to industries and highly intelligent children. The quince is a sour fruit but the warmer the climate the plant is grown the sweeter the fruit will be. The most popular way to enjoy the fruit in the US is by making quince jelly.
I just love the history behind the quince and it is on my list of most have plants for my garden.
Dogs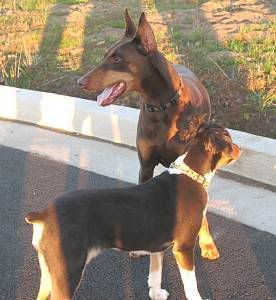 My in-laws have 2 dogs, a Doberman & an Australian shepherd. The Doberman is Daiza, and the shepherd sporting a hair cut is Mattie. They were great to have around, especially when we were missing our own lovely animals.
Oregon Coast
We took a drive out to the Oregon coast the day after thanksgiving. The dogs enjoyed a walk along the beach.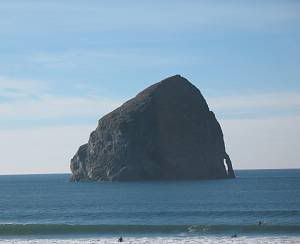 The coast always amazes me. It is un-like anything you would see on the East coast. We grabbed some lunch at the Pelican Pub & Brewery. Chris and I were able to get some fresh seafood, and dinned on Calamari, mahi tacos, & Po'Boy's and washed it all down with some great beer.
Best Friend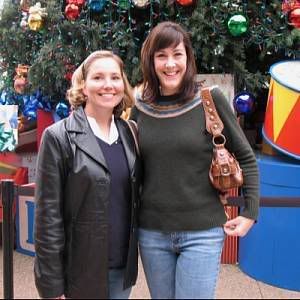 I was able to meet up with my best friend Alicia. She lives in Oregon. We met at some outlets for a couple hours. It was so great to see her. She had called me awhile ago to tell me she had bangs and I had called her when I cut all my hair off. LOL. So I think the bangs were working for her. I myself will never have bangs again. Every time I do, I regret it and then have to go through the awkwardness of growing them back out. We are excited and our planning a vacation for just the two of us next spring.
The Shops & Loot

Mom took me to a local quilt shop called Grandma's Attic. It was a great little shop with a large selection that included designer fabrics. I was fortunate enough to find these Moda Holiday panels from Deb Strain's Let it Snow Let it Snow series. I found them in this shop $2 cheaper a panel, plus there is no sales tax in Oregon and I did not have to pay for shipping. I bought 2, they are large squares, big enough to make a huge quilt or make placemats or pillows. I am not sure what I plan to use them for but just really loved the artwork, especially the cat snowman block.
The Yarn Garden
I was most excited about stopping at the Yarn Garden for a look around. Thankfully I brought a small list of possible up coming projects and yarn requirements.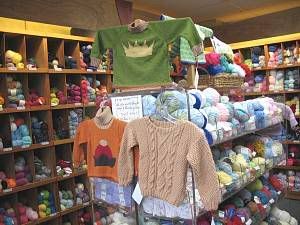 Even with the list I was very overwhelmed. I was not familiar with the way they had their yarn organized. It took me a bit to get my barring. I had some suggestive yarns written down but unfortunately they did not have them in stock. The store had several rooms stuffed from top to bottom with yarn, and even a back room filled with needles and patterns. I tried to hurry due to the fact I had 3 people waiting for me in their coffee shop whom did not buy yarn. Thankfully Lauri my step mom helped expedite things by carrying my selection and asking the employees for more color selections & if they had more available in the back.
I came out with a bag filled with yummy yarn. The yarn in the top basket is Filatura Di Crosa Wave. It is a wool silk blend in color 02 Cream. The one on the bottom left is Trendsetter yarns Tonalita in color 2357 Coffee Latte. The last one on the bottom Right is Classic Elite Yarns Waterlily 100% extra fine merino in color #1995 Azalea. Instead of sugar plums dancing in my head I had yarn cakes swirling around in endless abundance. Personally I probably could have spent half a day at the shop to really look at every thing. The good thing is I got in and out and did not break the bank & I came out with yarn I have plans for.
I will tell you more about my plans for the yarn in later posts. Right now I am focused on my Christmas stocking and will show updated photos of my progress in my next post. Well we are home and I am finally done with all the laundry and backed up chores since we were away. The weather here has really turned for the worse. We came home to snow on the ground. It is all but melted by now but the forecast expects more to follow.