Pineapple Dreams
Look what I spotted at Home Depot. I was there for the millionth time but this time with out hubby. I just ran in to get some shelf paper for the bathroom. I purposely did not grab a cart. For some strange reason I gravitated towards the plants. I spotted this Pineapple plant and had to run for a cart because it was the only one they had.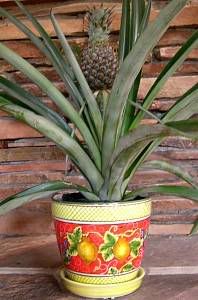 I am not kidding myself I know the chance of keeping this baby a live in my climate will be a miracle, but what a glorious tropical dream if I can. I find myself starring at that pineapple it is just amazing to see it growing out of that plant.
Busy Weekend

Chris and I worked non stop all weekend trying to get some things done in the house. Here is a list of things we did.
Chris's Office
Tore out nasty foot tall fake green marble baseboards
Tore down high corner shelf supposedly for a television
Ripped out built in crappy desk
Painted entire room color "Sesame" Behr paint
Put blinds on windows
Master Bathroom
Took down awful medicine cabinets
Threw out terrible looking black iron towel bars and accessories
Took out gold crusted dirty shower doors
Painted over Teal and sea foam walls with primer
Then painted walls with color "Navajo white"
Painted trim & window sill with color "Swiss mocha"
Replaced old bathroom accessories with brushed nickel ones.
Tiled along edge of wall around where old shower doors were.
Put in one of those curved shower curtain bars.
Living Room
Ripped out built in crappy wood shelving apparently for television
Master bedroom
Put blinds on windows
Replaced creaky fan with one that makes no noise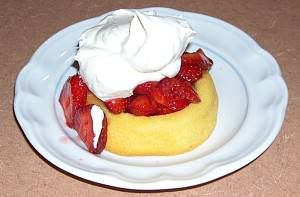 What a weekend. We pretty much worked from sun up to sun down the whole weekend. We did manage to relax a couple hours on the fourth of July. I made chili dogs with corn on the cob. We had strawberry shortcake for dessert. I was too pooped to make home made biscuits and went the easy way and bought already made little cake cups.
We still have lots to do but are happy with what we have accomplished so far.