America's Choice Alpaca Auction 2008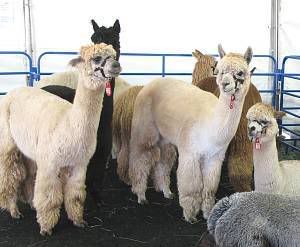 We made it home from the Alpacas of America Las Vegas auction. Again we had a wonderful time at this event.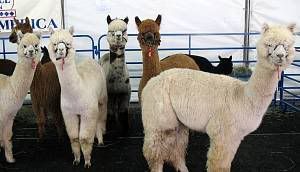 I found myself spending lots of time in the alpaca tent. I was missing my own so hanging out with them was the next best thing.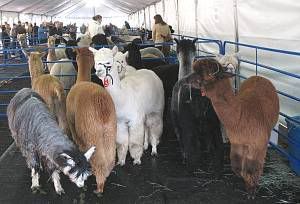 The alpacas were set up in a large tent. They were all lined up in pens about 8 to 10 alpacas in each pen.
There was plenty of time on Friday and Saturday to go into the pens and take a closer look at whatever alpaca you were interested in. I was very fond of the silver grey alpaca named Thunder's Little Miracle. Unfortunately she was lot #55 and I did not make it to that number. LOL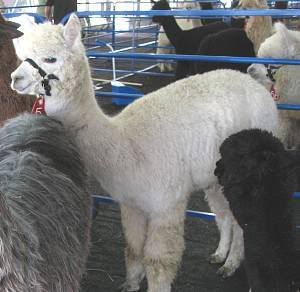 This is Novalei. She is a beautiful alpaca and was lot #5. There were a total of 90 alpacas in the auction and I made it as far as #5. The auction is very exciting and my heart was pounding when this little lady came out, and I could not help myself. I bid on her and won her for a great price. Fortunately they offer 4 year financing, because I did not plan on buying an alpaca this year, due to the barn we are building this spring. I got her at such a great price it was so worth it.
Here is a photo of Novalei from the auction catalog after she was shorn last year. She is a maiden born on Sept 14, 2006. So we will breed her in a few months and she will have her first baby next year.
Classes
There were several great classes offered over the weekend auction. We took 2 that were given by Eric Hoffman. He is the author of this book The Complete Alpaca Book 2nd edition. This book we bought on discount while we were there. This book is huge and is full of detailed information on alpacas. It is as big as an encyclopedia and pretty much reads like the encyclopedia of alpacas. Chris and I were interested in the book as soon as we heard about the chapter on feeding your alpacas. It is very detailed and gives you charts and analysis of what nutrients and why your alpaca needs them. There are so many different types of grasses & feeds you can give them that this helps you brake it down and to be able to choose the best for your alpaca. That is just one chapter, It will take me awhile to get through all the information in this book and I am thrilled that the information has been researched and available. There is still a shortage of information out there on caring for alpacas and I am so thankful Eric Hoffman took the years and time to make this book. The classes we took from him this weekend were Alpacas;Caring for them in their golden years & Farm Management; Behavior and Herd health. Both great classes and we learned a lot.
Restaurant
While in Vegas we found a new restaurant called Louis's Fish Camp. It is located in the new Town Square shopping area. If you are heading from the airport towards the strip you will see it on your left hand side before getting to the strip on Las Vegas BLVD. This is a pretty sweet shopping area, and there is a whole large play area in the center for kids. Louis's Fish camp was not easy to find. We eventually parked after driving around the market place twice trying to find it. After looking at the large directory we found it on the second floor. The food was so good. We started out with Fried alligator of course. LOL I had the crab soup and Caesar salad, and Chris had the Crab cobb salad. We were so glad to find the place and they must have a great chef back in the kitchen. All the food was fresh and tasted wonderful.
Anthropologie
I can not go to Vegas with out stopping at Anthropologie. I ended up with this great hand towel and 4 embroidered tea towels. The tea towels were in a clearance bin marked $1.95 a piece. I am a sucker for linens. When I finally walked out of the store poor Chris was sitting on a bench holding his head in his hand. I showed him what I got and he rolled his eyes. I am not sure he shares my vision of when I am an old lady and my cabinets are filled with precious wonderful linens, besides those embroidered napkins would be perfect for a little girl's tea party. Not that I have a little girl, but you never know when the occasion might arise and I will be prepared.
The Show

It was Chris's turn to pick out the show this time, and he chose the Monty Python's Spamalot. I was a little skeptical and was not looking forward to it. It turned out to be a great show. I was very surprised. It was very fun and entertaining. I would recommend it.
We had a great time and are happy to be home. This weekend we have 2 alpacas coming that we had bought from Alpacas of America last year. I will tell you all about them after they get here. Have a wonderful weekend.