Long Weekend with my Family
I leave tomorrow for Florida. I am visiting my family for a long weekend. I will be seeing my Dad, Mom, Sister & Brother. My parents have been divorced since I was a kid. They get along so it makes it nice for us siblings to all get together with them. I believe we have a barbeque planned for Sunday. I will tell you all about it when I get back.
Progress Report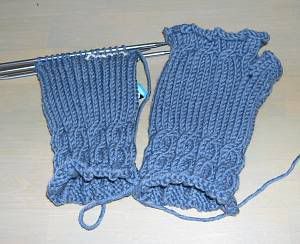 Here is Fetching. I just reached the part for the thumb. Just a little left to go. This is a great pattern I think I might make another pair in a different color.
Here are the beginnings of Grandiflora. I have cast on about 4 times. It has been more labor than love. With 301 stitches on the needle it is hard to tell where you are at in the pattern. I might throw in the towel on this one and find a more enjoyable pattern to knit. I love the yarn so that is good. If you know a good knit blanket pattern that uses two colors let me know.
Cosmo PI

Finally Cosmo is starting to use his kitty pi I made him. I had to put an old towel in it to make it more to his liking. It is the perfect size for him.
Have a wonderful weekend.