Lifes Candy & the Suns a Ball of Butter
It was my birthday on the 22nd of April. I turned 35 years old. I am not sure how I feel about it, so I am just moving along like it never happened. Chris drove me to El Paso and took me to P.F. Changs for my birthday meal. Of course I had to get a piece of the Great Wall of Chocolate cake pictured above. A girl on her birthday needs some chocolate to get through the day.
Some Birthday Loot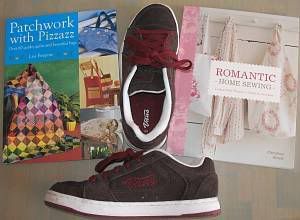 I got my first pair of VANS. I love these shoes. I have worn them almost every day since I got them. They were laced with a white pair of laces and had these burgundy laces in the box. I think I prefer the burgundy ones. Chris also got me these two books off of my Amazon wish list. The one on the Left is Patchwork with Pizzazz by Lise Bergene. It is filled with patchwork quilt and bag patterns.
The book on the Right is Romantic Home Sewing by Christina Strutt. I am into the whole French romantic style at the moment and this book has beautiful photos for inspiration. I think this book is even good for beginners to sewing. It has simple straightforward patterns that have illustrated step by step instructions. The type of projects in the book are: tablecloth, placemats, pillows, napkin rings, sachet, curtains, lampshade cover, canopy, hot water bottle cover, bed skirt, chair slip covers, envelope shoe box, bags, aprons, fabric brooch, child's patch skirt, & rabbit doll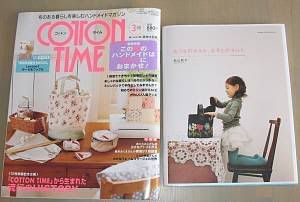 Another guilty pleasure, I was lucky enough to score two Japanese craft books. The one on the Left is Cotton Time this is the March 2007 issue. Although I do not speak or write Japanese you can not put a language on inspiration. The patterns all have illustrated step by step instructions. You just need to remember to look at them from the Right to the Left. I am someone that is a visual sewer I usually just look at the item and go about it my own way to replicate the item making it my own. So the fact that they are written in Japanese makes no difference to me.
The book on the right is Home Pretty Vintage Quilts. This book is mostly filled with little patchwork quilts and bags. Sometime I will need to scan in some photos from these books and show you how inspiring they are.
Time for Change
Nothing like a birthday to make you take a good look at yourself. I have been growing my hair out for 4 to 5 years and frankly when I look in the mirror I resemble some kind of sea hag. This photo of the White Witch from Narnia is a good example of how my hair is looking. So three days after my birthday I went and got it chopped off. It is just above my shoulders and it is a big improvement. I have always been the type that does not want to pull out a photo of myself from a decade ago and realize I am stuck in a time warp and have not changed my look. I love the hair cut and love the change. It is my husband that has a problem with adjusting to my appearance change. It took him a few days of side glances and peeking at me when he thought I was not looking, and he finally said he liked it and thinks I look pretty. I know he means it because that boy is totally honest when it comes to telling me what he thinks about the way I look. As soon as I can get someone to take a photo of me I will show you the new doo.
My Theme Song
I think everyone needs a theme song. That one song you go to that picks you up or makes you feel like yourself. I am not sure why I love musicals and can watch them over and over again, and frequently sing the songs from the movies through out the day. Where else are you going to see people breaking out in song and dance in publicly inappropriate places? I have a secret desire to join in. Anyway back to my theme song. At 35 I would have to say my theme song is "Don't Rain on My Parade" by Barbara Streisand. This song is in one of my all time favorite musicals Funny Girl where Barbara Streisand stars with Omar Sharif. If you have your own theme song let me know and feel free to use my song when ever you need it. In case you have no idea what song I am talking about I will post the first verse of the song below.
First verse of "Don't Rain on my Parade"
By Barbara Streisand

Dont tell me not to live, Just sit and putter,
Lifes candy and the Suns A ball of butter.
Dont bring around a cloud To rain on my parade.
Dont tell me not to fly-- Ive simply got to.
If someone takes a spill, Its me and not you.
Who told you youre allowed To rain on my parade!
Ill march my band out, Ill beat my drum,
And if Im fanned out, Your turn at bat, sir.
At least I didnt fake it.
Hat, sir, I guess I didnt make it!
But whether Im the rose Of sheer perfection,
Or freckle on the nose Of lifes complexion,
The cinder or the shiny apple of its eye,
I gotta fly once, I gotta try once,
Only can die once, right, sir?
Ooh, love is juicy, Juicy, and you see
I gotta have my bite, sir!
Get ready for me, love, cause Im a comer,
I simply gotta march, My hearts a drummer.
Dont bring around a cloud To rain on my parade!