Weekend in Southern Oregon
We stayed at the Weasku Inn on the Rouge River in Grants Pass, Oregon. The weather was cold, and rainy. It surprised me the weather was so bad because normally southern Oregon is much sunnier than the Northern part of the state. The Inn was very nice and cozy.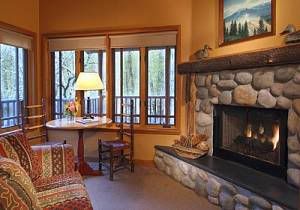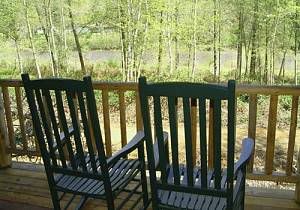 Our room had a fireplace and also a patio that over looked the River. Here is the King size quilt that was at the end of the bed.
Jacksonville Oregon
We landed at the Medford Airport. This is a very small airport and it only had one conveyor belt for the baggage claim. Lets just say it is small. After getting our rental car we decided to walk around the near by town of Jacksonville Oregon. I had never been there before. I loved it.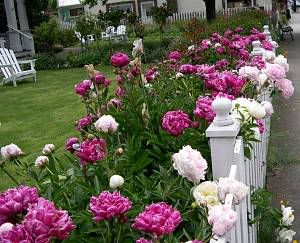 Walking along the streets of their downtown area was so picturesque. Here is an Inn that had peonies lining the white picket fence. Breathtaking.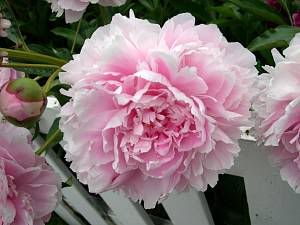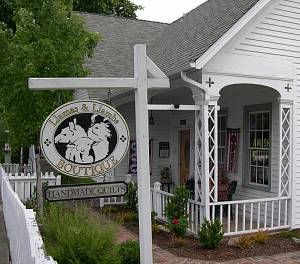 We checked out
Llamas & Lambs Boutique
. This was a great little shop that had a quilting room, wool room, & a weaving room. I think that if I ever had a little shop I would have something like this that encompasses many different crafts. I was proud of myself I did not buy one thing. It was great just to look at every thing.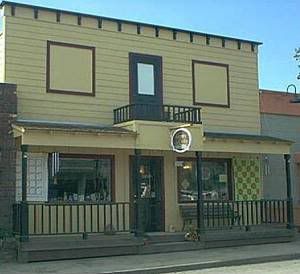 I did come across this wonderful shop named Country Quilts Inc. As you can see in the photo they had a bench outside which was perfect for Chris to watch pedestrians while I went inside. When I walked in I knew I was in trouble they had a bunch of Jim Shore Figurines all over the store. I am a huge fan of his work.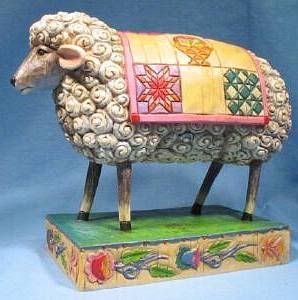 I narrowed it down and bought this lovely figurine from the Heartwood Creek series titled "Peace in the Valley". It is about 5" x 6 ½ ". Jim Shore does a lot of holiday stuff also plenty of Christmas and Halloween decoration & ornaments. Under the Heartwood Creek label he has all kinds of different series, dogs, cats, lighthouses, Jazz musicians, tea pots & on & on. I just love his style and coloring.
Here are two more examples of his work.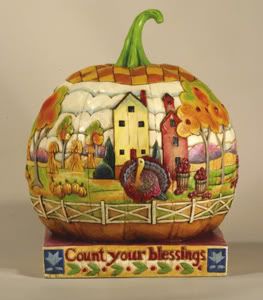 Count Your Blessings
Let the Magic Begin
Visit with Grandma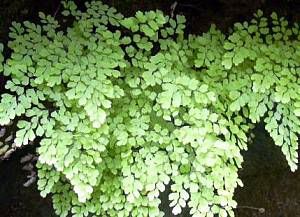 We had a nice visit with grandma. We went to their Saturday market. Grandma wanted some of her favorite turnovers. She also got some fresh asparagus. We picked up an assortment of jams from local farms. We took grandma to a plant nursery. She wanted a maidenhair fern. I helped her pick out a beautiful cobalt basket shaped pot and two maidenhair ferns to plant in it. It was a stunning look with the soft green leaves of the fern against the deep blue of the pot.
Overall Grandma was doing OK. She was on lots of medication but did very well and was very sharp witted. We took her to dinner and pretty much wore her out for the rest of the weekend.
Oregon Caves

Since Gram was tired from the day before we let her rest and Chris and I went to the Oregon caves.
There is a Chateau at the Oregon Caves Monument. Here is a photo I took of it, pretty rustic and old. The cave you go through with a tour guide. It is about an hour and a half trek through the cave. It was amazing to see.
Overall we had a nice little trip and were grateful for the chance to see Chris's grandma one last time. These are wonderful memories we will keep with us forever.