Books & Movies
My love affair with books & movies has gone on as long as I can remember. I do not believe I could choose one over the other. I love them both independently for different reasons. On occasion the two collide, and I get very excited. Of course you have heard it before from many people and I feel the same way the movie is never as good as the book. But of course it isn't. How can the big screen compare to your own vivid imagination.
The Golden Compass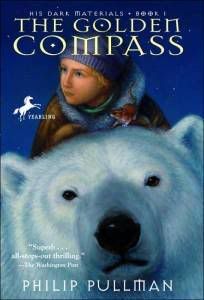 When I first heard this movie was coming out this year I was thrilled. My first reaction was to tell my husband. He had no idea what I was talking about. Of course I replied "You never read Philip Pullman's Dark Materials?" "You never read the golden compass?" Then he gave me that look and said "No, not everyone was a nerd and had their nose buried in a book". I secretly in that moment was thankful for all the Harry Potter books in this day and age. Those books have made it cool for kids to read and has opened them up to explore reading other books.
Back to the Golden Compass
This movie is due out December 2007
The main character Lyra will be played by Dakota Blue Richards.
Other actors in the movie are Nicole Kidman, Sam Elliott, Eva Green and many more. You can catch a preview
HERE
.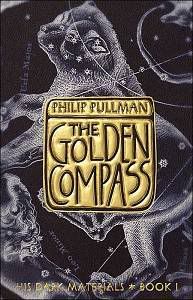 This is the cover of the copy I have in paperback. There are numerous covers and box sets because this is the first book in a series. I am sure once the movie comes out their will be many more covers. The Golden Compass is on my reading list this year. I love rereading books that I read at such a young age. This is a book of fantasy, about stolen children. There is of course a parallel universe with angels, witches, and armored polar bears. What more could you want in a juicy adventure? Of course there are lots more to sink your teeth into.
Miss Potter
I believe the movie Miss Potter is at theaters now. Of course it has not hit my neck of the woods yet but I am waiting. This movie is about Beatrice Potter and her story. The movie is about her trials and tribulations as a woman and artist and how she became the artist and writer of the many images we adore. The preview for this movie can be found
HERE
.
I am a huge fan of Beatrice Potters work. I am very excited to see the movie and learn a little bit more about the woman behind the work.
This is a book I have in my stash. "The Beatrix Potter Knitting Book" by Pat Menchini. I found this used copy over a year ago. My copy is actually an old library book. It has a copyright of 1987. It is out of print but you can still find used copies at reasonable prices if you Google it.
This is a great find. Although most of the clothing is very dated and I would not make any of them. The charts and motifs in this book are priceless and can be used to make other things. There are tons of artwork and quotes from Miss Potter's books.
Here are a few of the motifs from the book.
Benjamin Bunny
Peter Rabbit
The book also has other patterns besides knitting.
Like this Floppsy Bunny Latch Hook Rug pattern.
Also this "The tailor of Gloucester" cross stitch.
This is a book I have not made anything from but is a true love to read and oogle over the photos, and a book I will keep forever.
Beatrix Potter Fabric

It is turning into a Beatrix Potter year. This year there was a release of a new fabric line titled "Garden Tales". It is a little on the expense side but it looks lovely and would make a great baby quilt I think.
Here is a look at some of the fabric in the "Garden Tales"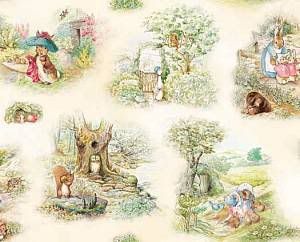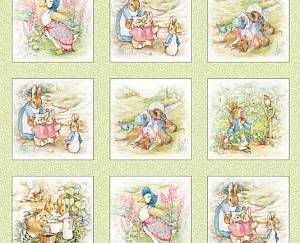 Friday Night Knitting Club
Ok if you are not into Fantasy books and want a more grown up read this might be the book for you. This is "The Friday Night Knitting Club" by Kate Jacobs. This book is on my reading list this year. It is about a lady named Georgia. She is the owner of a little yarn shop. She is raising her daughter Dakota by her self. She has a best friend named Anita. She holds a knit group at her shop. The ladies all get to know each other and of course unexpected things happen in their lives and turn everything upside down. It is a book about sisterhood. I can not wait to read this one and to throw in a juicy tidbit; this book is currently in production to be made into a movie starring Julia Roberts. I can already see this book launching many knit alongs and movie knit nights.