Thanksgiving
The In-laws, Chris & I loaded up the cars and headed to Chris's sister's house for Thanksgiving. They live in Roswell New Mexico. It is about a two hour drive from our home.
In tradition the boys slaved away all day fixing the meal.
Women having nothing to do, go to the park and play most of the day, contemplating possibly going fishing or hunting.
WHAT? Isn't that how it is at your house? Well it did not go quite like that.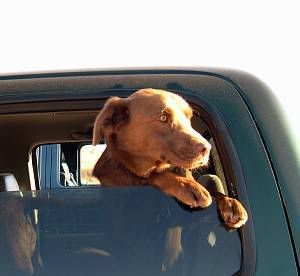 This is Chester enjoying the crisp fresh air. All in all it was a wonderful day. We had a fantastic meal, played a game called Fact or Crap, and then ended the day all watching Survivor.
Great Find
On Wednesday we took our family to a nearby ski town for some shopping and an early dinner.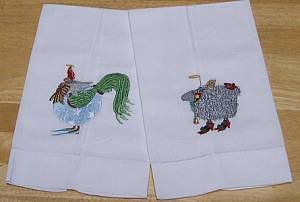 I found these great embroidered towels. They are both in a Christmas motif one is a chicken and the other a sheep. Both are decked out for the holidays. I should have grabbed more but these two were my favorite. I am thinking of using the embroidery to make into two wall hangings. I love the images so much I know I would never use them to wipe my hands on.
Knit Stocking
I started a tradition where I knit a stocking every year. This year I chose the Giant Jester Stocking from the book Christmas Stockings by Interweave Press. The pattern is also in the magazine Interweave Knits Holiday Gifts at news stands now.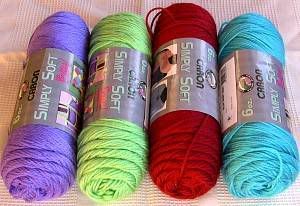 I chose Caron Simply Soft yarn in colors: Grape 9610, Limelight 9607, Autumn Red 9730, & Blue Mint 9608.